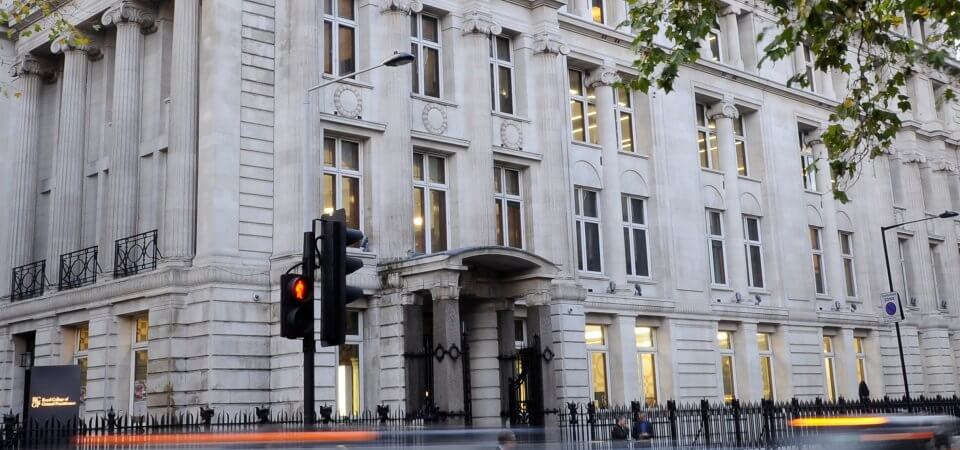 An award-winning event venue
30 Euston Square is a Grade II* listed award winning events venue, in a perfect central London location. Following a significant investment and refurbishment programme, we opened our doors as an event venue in February 2013.
Our unique building integrates grand Edwardian façade and original Greek Revival architecture with modern detailing and contemporary characteristics. Inside there's a superb choice of versatile event spaces which can cater for a wide range of corporate and social events.
From meeting, training and conference spaces to private dining, weddings and special occasions, there is an abundance of opportunities for the private and corporate event organiser.
30 Euston Square is managed by one of London's leading hospitality providers, Searcys. It is also headquarters to the Royal College of General Practitioners, an internationally renowned professional membership body and charity at the forefront of patient care.
Our approach
Our aim is simple, to make every event an enjoyable experience.
Working closely with our clients, guests, partners and suppliers, we develop positive relationships and are committed to exceeding expectations of organisers and their guests alike.
We deliver an impeccable service every time and base our values on;
Commitment
Enthusiasm
Trust
Integrity
Originality
Innovation
We work closely with key industry suppliers and partners to ensure we consistently maintain high standards and stay up to date with the latest industry technology and trends.
Take a look
The unique combination of old and new makes 30 Euston Square a very unique, interesting and prestigious building. Take a look at our new virtual tour which demonstrates the different event styles across the spaces, along with our accommodation facilities and onsite cafe.
To undestand how the spaces across the venue could work together, take a look at our interactive floorplans. However our experienced sales and events team are best suited to advising on which spaces would work well to meet your specific event needs.
Like what you see?
Contact us to book an appointment, where we can share more details and information about our award winning event venue.