Celebrating International Women's Day 2018, 30 Euston Square hosted a truly spectacular night on 13th March recognising the excellence of women in Hospitality and Events. The Year of the Woman dinner also marked the launch of 30 Euston Square Executive Head Chef Daniel Broughton's plant based menu which was served on the occasion and delighted guests with exciting, delicious and colourful dishes.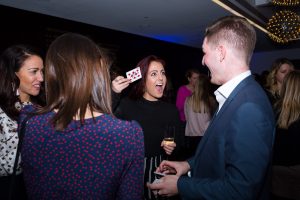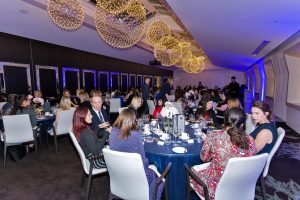 30 Euston Square's General Manager, Yvette Chatwin, welcomed over 80 guests to the venue's State Rooms and Rooftop Terrace where dinner and speeches here held. Guests honoured at this special evening included Euston Square's own female team members, clients and key players in the events industry. The occasion also provided a much-valued opportunity to hear from key speakers that presented a range of current topics on women. Guest speaker, Charlotte Flach, an events and conference journalist, shared positive insights and examples of how the sector can adapt to mentor more leaders: "Several female-led agencies are actively seeking to empower their majority female staff to be confident leaders for tomorrow. We can all do this in our own places of work and especially those in junior roles to achieve their work and personal goals" – concluded Charlotte.
In between talks, attendees were the first to indulge in a specially designed five-course tasting menu, with a variety of plant based dishes, created by 30 Euston Square's Executive head chef Daniel Broughton. Daniel's new seasonal menu focuses on the excellence of home-grown products and aims to appeal to all, not just those with dietary requirements. Daniel, the innovator of the year winner at Searcys Awards 2017, spoke to guests about his inspiration behind the menu. "Food is like fashion, it changes with the seasons, new trends emerge and old ones make a comeback. We are currently returning to how our ancestors would have eaten; a diet rich in plants, which is more sustainable for our planet."
"At 30 Euston Square we always strive to be forward thinking, and we strongly believe that dishes such as these are the future within the catering industry – comments Yvette. "I'd like to thank Daniel and all my team for providing our guests with an interesting, entertaining and certainly memorable evening".
The plant-based, vegan menu is available from April onwards at 30 Euston Square, as part of their spring summer hospitality programme and is a tribute to the best of British seasonal produce and includes: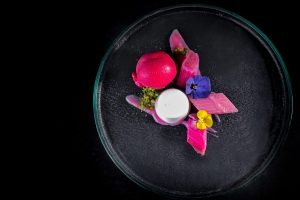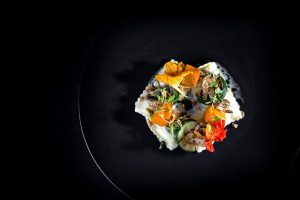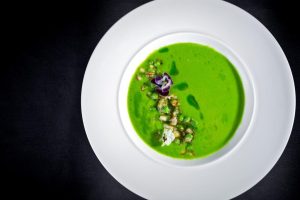 Textures of heritage tomatoes
Tomato jam, crisp & salsa on sour dough croute
Mint & pea soup
Smoked almond salsa, mint oil
Smoked Butternut squash ravioli
Savoury granola, char grilled courgettes & butternut squash, aubergine caviar, chive emulsion
Hendrick's gin
Cucumber & mint granite
Almond & coconut panna cotta
Ginger infused rhubarb, pistachio crumb & Kentish raspberry sorbet
For more information on holding an event please call 020 8453 4600 or email 30eustonsquare@searcys.co.uk