Are healthy food choices the next big thing for events? We recently questioned 177 event professionals on how easy it is to maintain a healthy lifestyle at events. The results speak for themselves.
What's the score?
Our research revealed 57% of attendees find it difficult or very difficult to maintain a healthy lifestyle at events. In addition, analyis across the Summer of 2016 compared to Summer 2015 revealed there was a 72% increase in healthy food choice requests.
In addition to this research, we've also monitored internal and national trends in the food and hospitality market. To meet these needs, we've integrated varied, healthy and balanced menus for our events.  We've also introduced "healthy swaps", as well as our new 'green leaf' motif which highlights healthy food choices.
Whilst the new menus include a variety of creative, flavoursome, canapés, bowl food, private dining and international options, the additional healthier options include:
Healthy Swaps (instead of traditional biscuits & cakes) choose from:
Tropical fruit burst smoothie – mango, banana & passion fruit with coconut milk
Homemade granola bar, high in nutrients & protein
Beetroot & cocoa cake with caramelised orange, high in iron & nitrates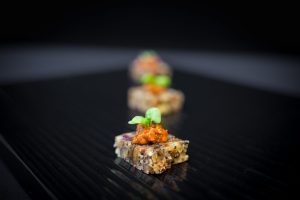 Fork & finger buffet options, such as:
Harissa spiced salmon with a low-fat yoghurt & mint dressing
Tuscan salad with sun-ripened tomatoes, basil, red onions, olives & wholemeal pasta (v)
Low-fat natural yoghurt mousse with summer berries (v)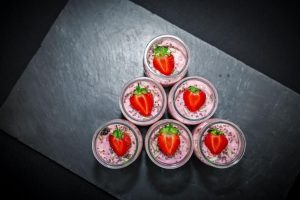 Bowl food options, such as:
Cajun chicken, saffron & capsicum rice, finished with avocado, tomato & sweetcorn salsa
Chickpea, roast paneer & summer vegetable tagine with fruity couscous (v)
Tandoori baked cod on curried sweet potato & wilted spinach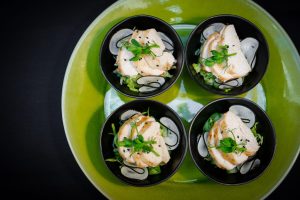 In addition, our new
 summer party packages
include healthy food choices within the Tapas, Holy Smokes BBQ and Picnic in the Clouds menus. Also, the live-chef interaction provides attendees with the chance to create their own dishes – which can be as healthy (or not) as desired.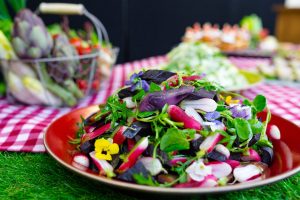 Yvette Chatwin, General Manager at 30 Euston Square said; "The increased focus and demand for healthy catering requirements at meetings and events is more than just a trend – it's a lifestyle choice. We already go above and beyond with our catering but in order to meet the needs of the market we must evolve our offering."
"The new dishes and menus within the 2017 hospitality brochure are carefully designed to deliver the perfect balance, which will be well remembered after an event. They are built on fresh ingredients and where appropriate include superfoods known to provide health benefits."
Along with the research, our events team have anecdotally noticed more interest from delegates for healthy options during day time events, as opposed to evening events. Therefore we will continue to offer more indulgent options so everyone can enjoy a positive food experience.