On Friday 20th October, representatives from our sales, events, marketing and operations team attended the 2017 London Venue Awards.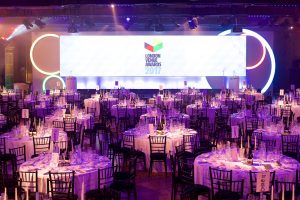 This year our creative catering, excellent service and verstaile spaces led us to be shortlised for three awards. Following this success, we're now winners of  'Best Venue Customer Service under 500 people', as well as achieving silver for 'Best Event Venue under 500 people'.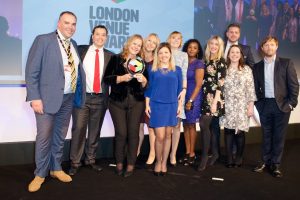 What does this mean to the 30 Euston Square team?
The London Venue Awards identify excellence and exceptional quality. Previously in 2015, we've been awarded 'Best Conference Venue up to 300' and 'Best Boardroom, Meeting or AGM Venue'. Therefore being winners at this year's awards for our service and our overall event offering is a great achievement.
Yvette Chatwin, General Manager comments: "I'm extremely proud that we won two awards this year. Providing the very best customer service is at the heart of 30 Euston Square. Without them we would not be the market leading venue we are today.  I also want to thank our valued clients for their feedback,  which all aid the strength of our award entries. It is their feedback which allows us to continually invest and improve our offering. Finally, I just want to say a huge congratulations to all venues shortlisted. This is a great achievement with London competition being very high!"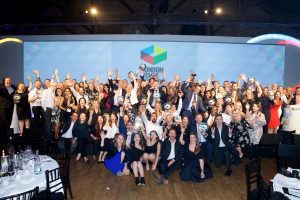 Here's what the London Venue Awards judges thought…
"The team continually exceed client expectations, helping to achieve client's goals. The entry showed some great examples of excellent service."
"30 Euston Square's approach of engaging with customers to shape the venue offering is clearly paying dividends, with impressive revenue growth recorded in recent years…It was a really thorough entry detailing all aspects of the criteria."
"The revenue growth and repeat business rate achieved is particularly impressive. Carrying out research into the dining needs of their customers has clearly driven tangible benefits in menu design and the management of allergies"
"A very good entry – helped by research to ensure a positive delegate experience…A very strong application and clearly a venue of quality, consistency and imagination. Flair and hitting the judging criteria was clear and a very strong contender. A well executed application!.
"I particularly liked the case studies that showed 30 Euston Square providing a variety of food, flexible services, excellent menu, efficient staff and very positive feedback."