To mark UK National Vegetarian Week, our research reveals a significant difference between the national average and the number of vegetarian requests at events.
According to the 2014 National Diet and Nutrition Survey, 2.6% of adults are vegetarian. However, our research across 177 event organisers and delegates found 11.36% of delegates said they were vegetarian.
The poll also suggested that 6.8% of respondents live a vegan lifestyle. This compares to research carried out by Ipsos MORI for the Vegan Society and Vegan Life magazine in 2016. Their findings suggest more than 542,000 people over the age of 15, approximately 1% of the population, are vegan.
What does this mean for venues?
"The research signifies the changing needs surrounding dietaries and explains why we have seen an increase in both vegetarian and vegan requests," comments Yvette Chatwin, General Manager of 30 Euston Square. "The difference from national averages emphasises that venues need to react accordingly by continuously refreshing, improving and providing more choice to meet these changing needs."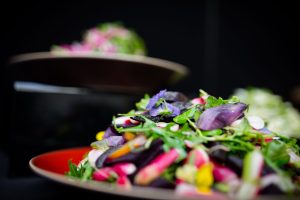 Daniel Broughton, Executive Chef at 30 Euston Square adds: "When designing menus, my team and I have increased the number of vegetarian options to ensure every guest benefits from choice and has a positive event experience. We integrate choice into all menus, from a simple sandwich lunch to a private seven course tasting menu. In addition, all of our desserts are vegetarian friendly. We are committed to keeping up with the latest food trends and experimenting with new and exciting flavours and ingredients."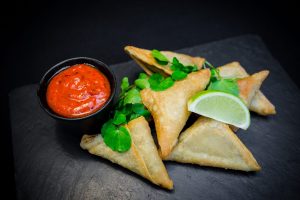 It's all about great choices
Take a look at our hospitality brochure where we have increased our vegetarian options, along with our healthier choices. Favourable dishes amongst clients include:
Curried lentil & carrot samosa with red pepper & mango sauce (v) – from the Finger Food menu
Garlic roasted butternut squash, basil & ricotta cannelloni with feta cheese crumb (v) – from the Hot & Cold Fork Buffet menu
Grilled lemon, thyme & roast garlic marinated halloumi with piperade sauce (v) – from the Holy Smokes BBQ menu (Summer brochure)