Our recent food poll across 177 event organisers and attendees reveals that 65% of delegates would like to see more nutritional information on event food. In response, we're delighted to launch our Green Leaf motif.
Nutritional information trend
The research found that 24% of delegate respondents asked for full nutritional information on each dish. In addition, a further 41% requested a colour-coded system, similar to the traffic light system commonly found in supermarkets. Event organiser respondents also supported these findings, with 61% expressing a need for communication of nutritional information when choosing menus. In addition, a further 34% opted for some form of signposting system.
"In a more health-conscious world, the desire for nutritional information is no real surprise," comments Yvette Chatwin, 30 Euston Square's General Manager. "Whilst a full traffic light system could well be necessary, we are listening to our client's current needs and have delivered a simple solution to help them identify healthier options. Also, the Green Leaf motif is simple to understand and has been easy for us to implement. The research demonstrated the need for improved communication between chefs and consumers, whatever form that may take."
Daniel Broughton, Executive Chef at 30 Euston Square is continuously designing new dishes and specific healthy menus to appeal to health-conscious clients. Daniel adds: "Event professionals are more health-savvy than ever before and look to us to support them. Although we already integrated healthy options into our menus through fresh and seasonal ingredients, the addition of the Green Leaf is part of our ongoing desire to provide healthy options that keep up with the latest trends and research."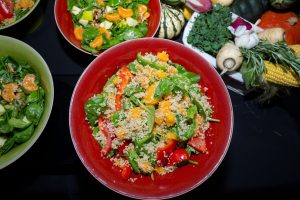 Where will the Green Leaf feature?
Our new healthier choices feature within our daytime event menus to help attendees maintain a healthy balanced lifestyle. The Green Leaf motif indicates which dishes are lower in fats and sugars or include superfoods, grains and spices known to provide health benefits. Our latest hospitality brochure includes the motif,  it is also being displayed and communicated to delegates attending events. This allows them to choose food and beverage options appropriate to their needs.
Example dishes showing the Green Leaf motif from the Holy Smokes BBQ menu (from the new Summer package):
Tuna steaks finished with salsa verde
Ginger & lemongrass marinated pavé of salmon
Chicken marinated with lemon, oregano & basil
So Cool ice cream bar serving fat free frozen yoghurt & sorbet (v)
Sweet potato & jalapeno burger (v)